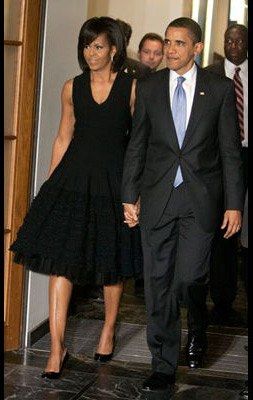 I met the person who would become my first legal mentor (largely in my head) when I was a senior in college. As president of my college's pre-law organization, I organized a trip to Richmond, to visit a major, Vault Top 100, prestigious law firm. When I walked in, I was greeted by an attorney, we'll call her Sasha (she was fierce, so Sasha seems like the natural choice). She was a seventh year associate (she's since made partner) and was oh.so.fly (you'll come to learn, I use periods for emphasis). She had on a chic black dress, some Cheeta print pumps (thinking back, I'm almost certain they had a red bottom, although it is possible my memory is clouded by the over-saturation of Louboutins presently) and her hair was perfectly coiffed, as if she had just walked out of FeekLeMoy (yeah, I plugged my salon). Seeing her affirmed something for me; you can be on point professionally, have a swagga that's, well.. on Mars and most importantly bring that swagga with you to the firm.
I've carried that theory with me, since. I've balanced trying to be the best I can, while refusing to compromise my swag. For example, last summer, it was I, that despite being warned about wearing heels on the cobblestone streets of the Tower of London, rocked a fierce pair of 4+ inches because, that it was my swag. I made those almost five inch Gladiator sandals which were all the rage last year, apart of a work appropriate ensemble, receiving compliments from young associates and the hiring partner alike. And inspired by my mentor, I found a way to bring out the Leopard peep toes--rocked them with a cute work appropriate Black dress, carefully straddling the line between business casual and happy hour fly. Don't get it twisted, swagga is not all about what one wears or their outside. I just used this as an illustration because I consider my style as an important part of my swag.
Remembering my summer associate swag last summer, I was super excited for the summer to begin, so I could once again play a fly, high-swagged, attorney. To adequately prepare for my first day, I did my weekly bid in the salon to make sure the hair was right and picked out a cute, yet conservative suit (I opted against a trendier, fitted slim leg, suit which is honestly more my swag, since I was meeting the Chairman again), but of course, made sure I didn't completely lose my swag, by adding a Fuschia button up and some high pumps. When I walked into the conference room, and surveyed the other 18 summers, I could help but first, yawn and then second, hum to myself; "no one in the conference room has swagga like mine." The next thought was, perhaps I was being harsh. I justified their lack of swag by saying, these 18 2Ls were nervous as hell about their first day and were therefore playing it safe in their black suits, white/light blue collared shirts and perfectly strung pearls. I figured they needed time to get to know the firm and realize that it was not necessary to be a robotic, carbon copy of everyone else. At this firm, it is okay to have a swagga and once they realized this they would not be afraid to let their swagga shine through (although I am a firm believer that if you swag, there is no hiding it-- but I was trying to give the benefit of the doubt). So I decided that before rendering a verdict, I should give them a few days. Well, three days later, after lunches, an event, and a reception at a trendy, Philadelphia restaurant I had only seen mild (and I mean
mild
) traces of swag from my fellow summers (meaning 2 out of the 18) and am sooo frustrated!
I am having a hard time wrapping my head around what happened with my class?!?! Objectively speaking, these people are intelligent, respectfully accomplished and some (okay a few) are even attractive-ish. Despite these things in their favor, they were missing that certain
je ne sais quoi
, that is the heart and soul of swag. I wondered, is this what all summer associates are made of?!?! The answer; no.
I thought back to my summer class last year, at the same firm. They were NOT like my current class. They (okay a select few, but enough to restore my faith) had that confidence, that style, that flair. Albeit it different that mine, they had swag!!!!
Furthermore, when I think of my group of friends and extended network encompassing future lawyers, they are both on point professionally and their swagga's right. They all have their individual swag, which may not be for everyone BUT their swag is still undeniable. Like WebbEsq, creator of this blog and close friend-- it was thinking about how unparalled our swags are in most firms, that birthed this post. Or guest blogger MeMe (well I call her Pieces) and K. Cayce, my sbff-- check out the facebook photo albums from when we introduced swagga to the NBLSA. My network of future Philly lawyers; Shu, Brei, Kevin, Samantha and Roy; again all tight professionally, with swaggas to match. I def have to shoutout my bff Nai; I dare someone to catch us on our way to our summer gigs and dispute the swag. Lastly, I can't forget A. Carter, A. Satt, D. Barnes. C. Hogue, S. Laine, K. Alce or A to the.. Again, all upcoming attorneys, but all have held on to their swag. This list is by no means exhaustive; I am missing people and there are lawyers out there with impeccable swags, I have yet to come across. It just goes to show that it
is
in fact possible to be pristine with regards to your career, have a swag and not be afraid to demonstrate that swag. Since this is both possible, and judging from my circle of friends and associates, rather common, why is it sooo hard for the other summers?
I honestly hope that within the next 9 weeks, the timidness goes away from the summers and their swag (I'm tryna give them the benefit of having one) starts to shine through. It is soooo hard to feign interest in a conversation over cocktails with someone when your swaggas don't match (lookout for that post :-)). In the event that this doesn't occur, ::sigh::, I guess it could be worse. In that case, I will for the rest of the summer find solace in the associates and recruiting staff who are not afraid to demonstrate their swag. Then, once I (prayefully) become a full time associate (No, seriously.. pray.with.me), I will join the ranks of the associates, I admire; not just because of their professional accomplishments, but because their swag.is.ridiculous and they have no qualms about it. I can almost see it now. At the summer events two years from now, I, along with them, with sip my margarita in the corner, in my cute summer work dress, and over-indulgent designer shoes and hum "no one in the firm has swagga like us."